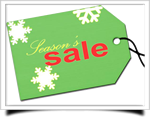 If you run an ecommerce business then now is the time to start planning your Christmas marketing campaign. Chloë Thomas offers some top tips to get you started.
If you're running an online shop, it's easy to leave it and think you can do it later but, as we all know failing to plan means planning to fail. So take some time now to plan your Christmas marketing.
Start by defining what the stories and promotions are going be and getting the critical dates organised. Set it all down in black and white.
The first date you need to determine is your last order date. This year Christmas is on a Wednesday, so next day delivery deadline will probably be Monday 23, and normal delivery deadline either Thursday 19 or Friday 20. This means you are going to need your team picking, packing and despatching over the last weekend if you're really going to maximise your sales. So start planning for this now.
Once you've got your end date you begin to plan in the stories and promotions. Before you start though, look back at last year. What worked? What didn't? And what did you want to do but ran out of time to do?
Once you've pulled all of that together you can get on with creating the plan. Remember a good marketing plan is flexible, supports your unique selling proposition, fits with your brand, and is designed to help you meet your sales objectives.
The strongest marketing plans are those that are built on strong stories. Stories are the subjects and themes that hold together a set of activity over a number of weeks and marketing channels.
For example, if your story is your 'Christmas sale', then for two to six weeks it's going to be the main message across all your marketing. There'll be 'sale now on', 'sale must end', and 'more reductions'. All of these support the common 'Christmas sale' story.
What should your stories for Christmas be? Here are some ideas get you started:
Last order dates / 'Get your gifts on the sleigh'
Stock up on stocking fillers
Christmas cards
Last minute gifts
Personalised gifts (usually an earlier last order date)
Launch
Order early discount weekend
These may not be particularly creative, but they help to build on your brand and events around Christmas can give you some great extra stories. You should aim to have around four to six different stories.
Once you've got your stories pencil them into your marketing calendar, and then start filling in the big marketing activities. The big ones are those that get seen by lots of people; your emails, what's on the homepage, social media competitions, blogs, videos and other content.
When you have all those filled in, put the plan away. Sleep on it and come back to it with fresh eyes before you do the next part.
The next part is to fill in the mini-marketing activity; those areas that don't require a whole blog post, or a whole email to be created but which are no less essential to a successful season. For example, remarketing, PPC, social media posts etc. Also note down when key changes need to be made; when budgets change, when advertising text needs to be rewritten, and the key things you should be tweeting about.
The very last thing you should do is make sure everyone involved knows what the plan is. That might mean running a presentation for them all, or it might mean writing a two-page guide, or if you're a small team it might mean shouting across the desk!
Finally remember that a good marketing plan is flexible. So monitor the results and if you need to change it, change it.