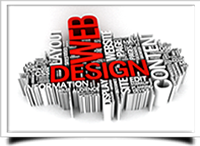 Website Design is the process of creating the graphic design of each part of the website, and turning that into code (HTML/CSS) that is suitable for the internet.
Sounds simple doesn't it?
Well in essence, it should be. However those finishing touches that turn a good webpage into a fantastic website take skill, experience and extensive knowledge of good website design practices.
Not only that, but creating the code is not that easy either. A large number of website designers just use a program like Dreamweaver to create the code. This results in code that can be messy, and not easily changeable or expandable.
We at Spyda's Web, create the code for each website, trying to use as few large images as possible to keep the page loading times to a minimum.
Our Website Design Principles
We make all our website designs conform to the following rules: • W3C standards-compliant
• Cross-browser consistancy
•Clear navigation, to make the site easy to use
• Make text easy to read
• Organise content in an intuitive manner
• Make the website reflect the personality of the company.
We can, if pushed, create cross browser compatible HTML/CSS websites (the old fashioned way!). We prefer to create modern looking, functional, content management systems using WordPress as a framework. The majority of our work is based around the WordPress framework as it is by far the most search engine friendly framework available. Content management is a major consideration in a Spyda's Web design. Whether you are able to manage your own content (you may want to consider 1 to 1 training to learn how to do this yourself) or you would prefer us to manage the content on a monthly basis for you; WordPress is the ideal solution as the worlds foremost content management system providing flexibility, ease of use and extendability.
Almost every business has a different criteria  for their website. There shouldn't be a truly template website to fulfil your needs (despite many web designers offering stock solution to your situation). For this reason it is difficult to give a price without discussing your requirements.  Please call us to discuss your specific needs.